2020 Umpire Developer Award

The Baseball Canada Umpire Developer Award is a new award handed out annually to an individual who has demonstrated commitment and excellency in the delivery of umpire education as part of the National Umpires Certification Program. We are proud to be able to recognize all of the following nominees for their exceptional efforts to continued umpire development in 2020:
Kris Hartley, Rhonda Pauls, Mark Jones, Matt Schule, Bryce Mason, and the Baseball Quebec Umpire Development Committee.
Congratulations to the 2020 award winners, Ed Quinlan and Chris Wilhelm. Thanks to Ed and Chris for their work in ensuring the continuity of umpire development throughout the unusual events of 2020.
Click here to read about the exceptional contributions of Ed, Chris, and all the nominees.
---
Future of Umpiring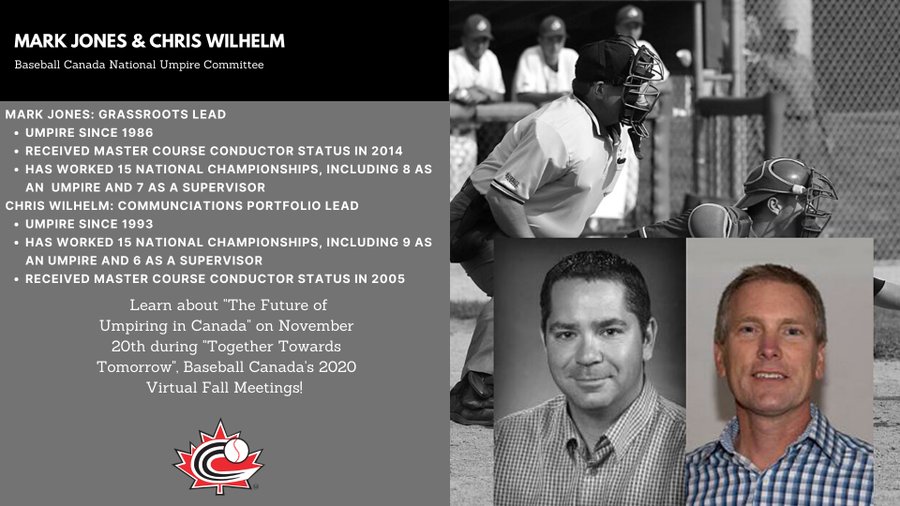 Mark and Chris's presentation at the Baseball Canada virtual Fall Meeting highlighted past accomplishments and current initiatives of the Umpire Development Committee. As well, Mark shared information about our exciting new national Level 3 umpire e-learning modules, which are being launched before the 2021 season.
Click here to watch the full video of Mark and Chris' presentation.
---