Future of Umpiring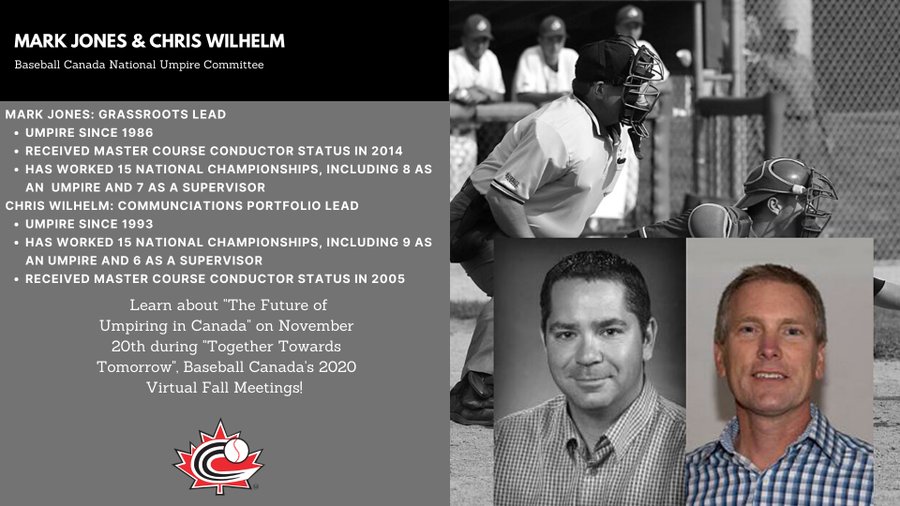 Mark and Chris's presentation at the Baseball Canada virtual Fall Meeting highlighted past accomplishments and current initiatives of the Umpire Development Committee. As well, Mark shared information about our exciting new national Level 3 umpire e-learning modules, which are being launched before the 2021 season.
Click here to view the presentation slides.
A recording of the presentation will be posted here when available.
---
Website Redesign
This site, maintained by the Baseball Canada Umpire Development Committee, is currently under redevelopment through 2020. We hope you enjoy the new features and redesigned layout that are already in place.
When complete, this site will be a one-stop resource for umpiring in Canada. It will continue to house a member login area for nationally certified umpires, but will also present a wide variety of public information and resources including:
- umpiring related news and information of interest
- current events
- information for prospective new umpires
- rule scenarios and rule myths
- outline of the umpire development program and progression steps
- and much more!
In the meantime, as our site is redeveloped, please follow us on Twitter @BCAN_UMPIRES, Instagram, and visit us on Facebook, where we regularly post news and items of interest to the baseball and umpiring communities in Canada.
---