Umpiring News

2020 Umpire Developer Award Winners Announced
The Baseball Canada Umpire Developer Award is a new award handed out annually to an individual who has demonstrated commitment and excellency in the delivery of umpire education as part of the National Umpires Certification Program. We are proud to be able to recognize all of the following nominees for their exceptional efforts to continued umpire development in 2020:
Kris Hartley, Rhonda Pauls, Mark Jones, Matt Schule, Bryce Mason, and the Baseball Quebec Umpire Development Committee.
Congratulations to the 2020 award winners, Ed Quinlan and Chris Wilhelm. Thanks to Ed and Chris for their work in ensuring the continuity of umpire development throughout the unusual events of 2020.
Click here to read about the exceptional contributions of Ed, Chris, and all the nominees.
Canadian Umpire Assigned to Olympic Games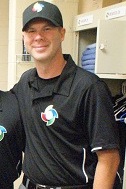 Baseball Canada umpire Trevor Grieve has been appointed by the World Baseball Softball Confederation (WBSC) to umpire the baseball competition at the 2020 Olympic Games in Tokyo, now rescheduled for 2021.
Grieve has an impressive international umpiring background, having recently umpired at the 2019 Europe-Africa Olympic Baseball Qualifier in Italy. He is also respected internationally for his work in the 2013 and 2017 World Baseball Classics, as well as the 2015 Premier 12. This will be a busy year for Grieve, as he has also been assigned to umpire at the upcoming Americas Olympic Baseball Qualifier in Arizona from March 22-26 in addition to his Olympic Games appointment.
A long-time umpire supervisor and instructor for Baseball Canada and Baseball Ontario, Grieve is also renowned for his success as an umpire within the Baseball Canada national program. Most recently, Grieve was assigned as the plate umpire for the gold medal game in the 2015 Baseball Canada Senior Men's Championship.
Grieve's outstanding contributions to umpiring and the game of baseball in Canada were recognized in 2011, when he was the recipient of Dick Willis Memorial Award, as Canada's umpire of the year.
Grieve honed his skills and developed his reputation as an umpire during his Minor League Baseball career between 2001 and 2004, with experience in the South Atlantic League, New York-Penn League, Gulf Coast League, and Frontier League.
A Toronto native, Grieve left professional baseball in 2004 to become a police officer with the Toronto Police Service, where he's worked for the past 15 years while building his impressive resume within the national and international umpiring programs.
Although the two professions are distinctly different, Grieve points out there are similarities between policing and umpiring. He said, "You have to take charge on a field and as a police officer you sort of take charge at a scene, you have to know the rules, the laws. There's so many comparables between the two, it was almost a natural fit. It was the best decision I ever made."
A graduate of the University of Guelph, Grieve was a competitive swimmer, winning a Gold Medal in at the Ontario University Athletics Conference Championship in 1999 and competing up to Commonwealth and Olympic trials.
After a 21-year journey, Grieve's Olympic dreams have finally been realized!
---